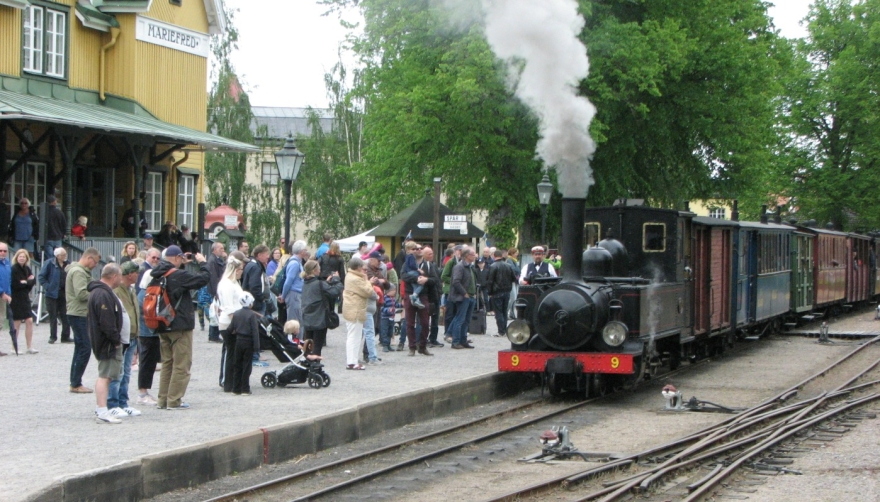 On ÖSlJ. With us you can take an historical journey with an authentic steamtrain which is approximetly 100 years of age. The ride will take you between Mariefred (Gripsholms Castle), via Läggesta to Taxinge. You can reach us easely with both car or by train, we are connected to the state railway in Läggesta.

Trafficdays 2018: Traffic starts May 10th and ends on September 29 th. For detailed times see
Ride the train> Times 2018. Notice: Some fo theese days, trains only are available netween Mariefred and Läggesta.

Events/special timetable:
16/6 "Magical day", 29/9 Museibanans Dag (The yearly "Grand Final")
Här ska anges om det är trafik eller ej
New and events
The traffic for this season starts May 10th

This blog is pnly in swdish, but try use google translate.
Spend a whole day on the railway or combine it with surrounding sights in the nearby area. There are two popular roundtrips, Slott & Ånga (The short roundtrip) between Mariefred and Taxinge and then there is the Mariefredsroundtrip between Stockholm and Mariefred. In connection to our station in Mariefred there is a Café & shop and a railwayhistoric showcase in connection to it. Timetabels, prices and other info you can find through the menus.

Our rollingstock; including some of our engines, have once upon a time served on seven railway companies with 600 mm guage, that had regular passenger trafik. These have been carefully renovated by hard working volentary members in the railway society Östra Södermanlands Järnväg.
Map overlooking Östra Södermanlands Järnväg ♦ Click on the map to enlarge!
The steamboat Mariefreds route between Mariefred and Taxinge is marked on the map.