Helsingborg-Råå-Ramlösa Railway (HRRJ)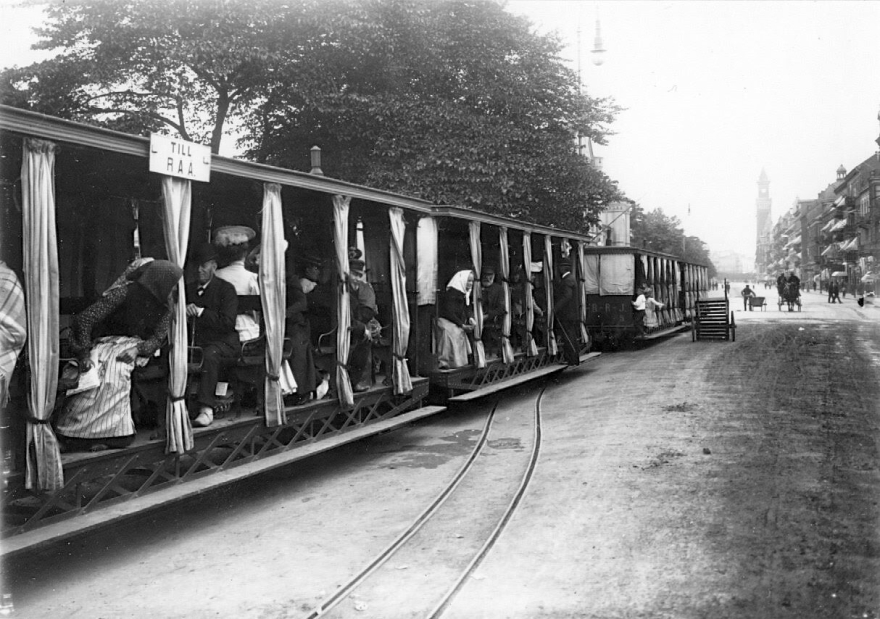 A train with summer cars is set in the street in front of Helsingborg Central Station. The most viewed wagons 9 and 10. The station behind the trees was used by the city's regular railways. The clothes tell: Here you travel both high and low.
HRRJ Helsingborg-Råå-Ramlösa Järnväg
The wellbreakers' track - 1906 was converted to normal tracks
SHORT-LIVED AND A GENUINE DECAUVILLE RAILWAY
Traffic on the HRRJ began in 1891 and grew so rapidly that it was electrified and rebuilt to standard gauge already in 1906. This line was Sweden's only railway built according to the French Decauville system. For example, rails were attached to steel sleepers instead of wooden ones. All four engines were supplied by Decauville, and most of the rolling stock was built in Sweden from French designs. Between May and August, local Helsingborg citizens travelled to Ramlösa to "take the mineral waters and bathe". This became the basis for an extensive summer traffic, but traffic was discontinued in winter during the first few years. In the late 1890s, new industries were established in the Helsingborg area. As a result, goods traffic rapidly increased. The line began near Helsingborg Central Station and followed the coast to Råå. Halfway, in the "Triangle", was the siding to Ramlösa and a crossing with a standard gauge railway. Earl Fredrik A:son Posse, a railway engineer, initiated construction of the railway. He was also HRRJ's dominant owner and built many other railways.